FEATURED WINES of the MONTH:
With Valentine's Day quickly approaching, love is in the air here at the Corner Stone.  This month we feature a Champagne and a Bordeaux, both of which pair nicely with chocolate, roses and romance!

Veuve Clicquot (Champagne, France)
Blend: 50-55% Pinot Noir, 15-20% Pinot Meunier, 28-33% Chardonnay

92 Pts.  "Tightly knit, focused by racy acidity and a streak of minerality, this offers subtle notes of white peach, anise, biscuit and kumquat.  The refined finish echoes a smoky note." December 2012 Wine Spectator

A full-bodied, rich champagne with ripe apple flavors and a long, creamy finish.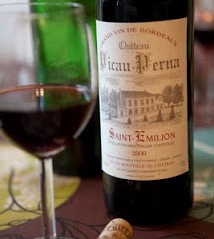 2011 Chateau Picau-Perna Bordeaux (Saint-Emilion, France)
Blend: 41% Merlot, 41% Cabernet Sauvignon, 18% Cabernet Franc.
Bright and clear burgundy color with crimson highlights.  Flavors of ripe red fruits and berries balanced with hints of earthiness.
Saint-Emilion is the oldest wine area of the Bordeaux region of France.  Its wines are the most robust of the Bordeaux and are more approachable at an early age due to the prevalence of the Merlot grape.
FEATURED BOTTLED BEERS of the MONTH:
Cafe B.O.R.I.S. Oatmeal Imperial Coffee Stout
Freshly roasted coffee flavor and aroma add satisfying levels of complexity to this robust stout, perfectly complimenting its intense, rich roasted character
Brewed with coffee from the Hippie Coffee Company in Canton, OH
9.4% ABV, 60 IBU
AleSmith Horny Devil Ale
An authentic Belgian Style ale, with Belgian candi sugar and a strain of yeast from a Trappist monastery in Belgium.
Brewed with coriander seeds, which impart a refreshing citrus flavor to an outstanding ale.
11.0% ABV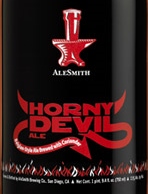 It's the holiday gift-giving season! What do you get for the craft beer & wine lover who has everything? Here are a few creative and thoughtful ideas:

Thirsty Dog Barrel Aged 12 Dogs of Christmas – There were only 999 bottles brewed of this ale brewed with honey and holiday spices and aged for 24 months in Willet bourbon barrels. It makes a perfect holiday party gift, as it comes in a magnum (1.5L) bottle to share with friends.

2006 Stone Imperial Russian Stout – The Stone Imperial Russian Stout already has a cult following among beer enthusiasts, many of whom eagerly await its release every year. May we suggest creating a vertical tasting gift by pairing the 2013 release of this beer with a bottle of Stone's special release of the 2006 brew? We have a limited supply of the 2006 version, get it while you can!

Holiday Growler Gifts – Give the gift that keeps on giving – a refillable growler for craft beer on draft! Fill a 32oz or 64oz growler with Great Lakes Christmas Ale or 12 Dogs of Christmas, on draft now at the shop. Or give a Growler Set! For $29.99, get a 64oz growler, 2 Corner Stone pint glasses, and a coupon good for their first fill with te beer of their choice!

Wine Lover Gift Set – Put together a wine gift for your holiday party hosts! Include a bottle of Orin Swift's The Prisoner, Wine Spectator's Top 100 issue, a wine opener & a package of Wine Wipes to avoid purple lips & teeth at the party! Or pick up a St. Germaine Gift Set that includes a bottle of Elderflower Liquor and a fancy glass carafe and pair it with a bottle of Boccelli Dry Prosecco for a ready-to-make party cocktail!

Need more ideas? Come talk to us for inspiration! We have gift basket materials ready to go! Happy Holidays!