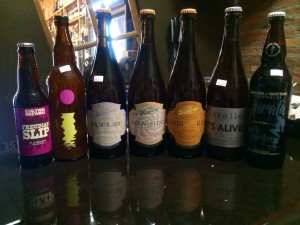 Freudian Slip Barley Wine Ale;  Evil Twin Brewing.  An intense, attention-seekingly hoppy Barley Wine Ale with a huge ego and a huge thirst for recognition.  10.3% ABV.  97 RateBeer/85 Beer Advocate.
Fatamorgana Imperial IPA;  Omnipollo (Brewed at Pub Dog Brewing).   This Imperial IPA is brewed with oats and wheat, with a cloudy crispness reminiscent of a saison.  It is dry-hopped twice and bottle fermented to preserve flavor and aroma.  For those wondering, like I did, what the heck the name means, a Fata Morgana is a complex mirage seen in a narrow band at the horizon.  The name is from an Italian phrase derived from Latin, and referred to the belief that such mirages seen on the horizon at sea were fake images of fairy castles, created by sea witches trying to lure sailors to their death.   8.0% ABV.  97 RateBeer/95 Beer Advocate.
Sour on the Rye Sour Rye Ale Aged in Oak Barrels;  The Bruery.   Deliciously sour with spicy rye notes and hints of oak.  If you are a beer collector, it can be aged for many years if stored properly.  7.6% ABV.  99 RateBeer/97 Beer Advocate.
Rueuze Sour Blonde Ale Aged in Oak Barrels;  The Bruery.   Unfiltered and bottle-conditioned, this is The Bruery's take on a gueuze-style ale.  It combines three vintages of their barrel-aged sour blonde ale for an intensely tart and funky beer.  This one can be aged for 5 years if stored properly.  5.6% ABV.  98 RateBeer/91 Beer Advocate.
Saison de Lente Belgian-Style Saison;  The Bruery.  Also unfiltered and bottle-conditioned, this one is golden in color and characterized by fresh hops and wild, rustic Brett yeasts.  It is perfect for warmer springtime weather and Easter celebrations, so maybe this year you should give up something other than beer for Lent!  6.5% ABV.  97 RateBeer/91 Beer Advocate.
It's Alive!  Belgian Wild Ale;  Mikkeller.  A hoppy Belgian Strong Ale that will continue to develop in the bottle with age.  8.0% ABV.  97 RateBeer/84 Beer Advocate.
Jurata Baltic Porter;  Coronado Brewing and Cigar City Brewing Collaboration.   Jurata was a mythological mermaid who was known to roam the depths of the Baltic Sea, much like the energetic yeasts used to brew this beer roamed around their fermentation tanks.  8.0% ABV.  Not yet rated.
FEATURED WINES of the MONTH:
With Valentine's Day quickly approaching, love is in the air here at the Corner Stone.  This month we feature a Champagne and a Bordeaux, both of which pair nicely with chocolate, roses and romance!

Veuve Clicquot (Champagne, France)
Blend: 50-55% Pinot Noir, 15-20% Pinot Meunier, 28-33% Chardonnay

92 Pts.  "Tightly knit, focused by racy acidity and a streak of minerality, this offers subtle notes of white peach, anise, biscuit and kumquat.  The refined finish echoes a smoky note." December 2012 Wine Spectator

A full-bodied, rich champagne with ripe apple flavors and a long, creamy finish.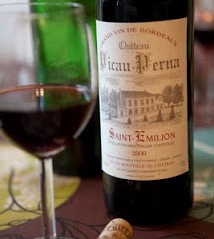 2011 Chateau Picau-Perna Bordeaux (Saint-Emilion, France)
Blend: 41% Merlot, 41% Cabernet Sauvignon, 18% Cabernet Franc.
Bright and clear burgundy color with crimson highlights.  Flavors of ripe red fruits and berries balanced with hints of earthiness.
Saint-Emilion is the oldest wine area of the Bordeaux region of France.  Its wines are the most robust of the Bordeaux and are more approachable at an early age due to the prevalence of the Merlot grape.
FEATURED BOTTLED BEERS of the MONTH:
Cafe B.O.R.I.S. Oatmeal Imperial Coffee Stout
Freshly roasted coffee flavor and aroma add satisfying levels of complexity to this robust stout, perfectly complimenting its intense, rich roasted character
Brewed with coffee from the Hippie Coffee Company in Canton, OH
9.4% ABV, 60 IBU
AleSmith Horny Devil Ale
An authentic Belgian Style ale, with Belgian candi sugar and a strain of yeast from a Trappist monastery in Belgium.
Brewed with coriander seeds, which impart a refreshing citrus flavor to an outstanding ale.
11.0% ABV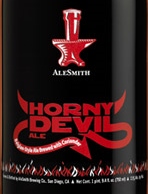 It's the holiday gift-giving season! What do you get for the craft beer & wine lover who has everything? Here are a few creative and thoughtful ideas:

Thirsty Dog Barrel Aged 12 Dogs of Christmas – There were only 999 bottles brewed of this ale brewed with honey and holiday spices and aged for 24 months in Willet bourbon barrels. It makes a perfect holiday party gift, as it comes in a magnum (1.5L) bottle to share with friends.

2006 Stone Imperial Russian Stout – The Stone Imperial Russian Stout already has a cult following among beer enthusiasts, many of whom eagerly await its release every year. May we suggest creating a vertical tasting gift by pairing the 2013 release of this beer with a bottle of Stone's special release of the 2006 brew? We have a limited supply of the 2006 version, get it while you can!

Holiday Growler Gifts – Give the gift that keeps on giving – a refillable growler for craft beer on draft! Fill a 32oz or 64oz growler with Great Lakes Christmas Ale or 12 Dogs of Christmas, on draft now at the shop. Or give a Growler Set! For $29.99, get a 64oz growler, 2 Corner Stone pint glasses, and a coupon good for their first fill with te beer of their choice!

Wine Lover Gift Set – Put together a wine gift for your holiday party hosts! Include a bottle of Orin Swift's The Prisoner, Wine Spectator's Top 100 issue, a wine opener & a package of Wine Wipes to avoid purple lips & teeth at the party! Or pick up a St. Germaine Gift Set that includes a bottle of Elderflower Liquor and a fancy glass carafe and pair it with a bottle of Boccelli Dry Prosecco for a ready-to-make party cocktail!

Need more ideas? Come talk to us for inspiration! We have gift basket materials ready to go! Happy Holidays!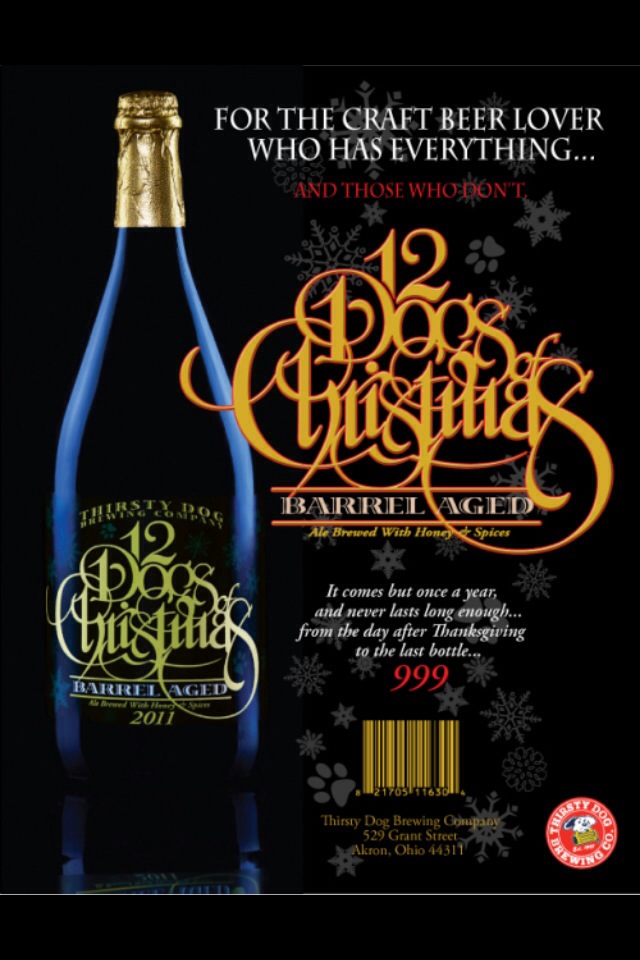 It's Delivery Day! Special deliveries arrived today from some of our favorite breweries!
Three Floyds Gumballhead – Wheat Ale brewed with Amarillo hops and bottle conditioned. Has nice balanced hoppy flavor with a citrusy finish, makes a perfect beer to help close out the summer! 5.5% ABV. 98 on Ratebeer, 94 on Beer Advocate
Three Floyds Alpha King – Three Floyds' flagship beer, an American Pale Ale brewed with Centennial, Cascade & Warrior Hops. 6.5%ABV. 100 Rate Beer/ 95 Beer Advocate
Founders All Day IPA – NOW IN CANS! We've been waiting all summer for this session IPA to show up in cans, and it's finally here! This one is my new favorite summer beer! If you haven't tried it, you must. 4.7% ABV. 96 Ratebeer/87 Beer Advocate
Stone Enjoy By IPA – A delicious, big, floral Imperial IPA. Get it while it lasts & be sure to Enjoy By 9/13/2013! When you pick it up, be sure to tweet & use the hashtags: #EnjoyBy #OH #CornerStoneCols so everyone knows you got some! 9.4%ABV. 100 Rate Beer/98 Beer Advocate
More from Stone and other breweries, you've just got to come down to the shop to check it out!
Cheers!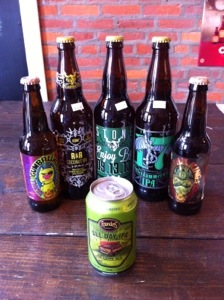 Happy IPA Day!! We'll be celebrating IPA Day in a big way here at Corner Stone Craft Beer & Wine this Thursday 8/1 and Friday 8/2 with some new arrivals, special pricing, and a great local draft lineup!
First, the new arrivals:
Three Floyds Dreadnaught, an intensely hoppy, complex, smooth and aromatic Imperial IPA. 9.5% ABV, 99 IBUs. 98 on Beer Advocate/100 on Ratebeer.
Uinta Crooked Line Cahoots, a limited-release, bottle-conditioned Double Rye IPA brewed with two types of malted rye and CTZ and Chinook hops for a hoppy, spicy IPA. 9.4% ABV. 88 Beer Advocate/96 Ratebeer.
Mikkeller Invasion Farmhouse IPA, a Sour IPA collaboration between Mikkeller and Anchorage Brewing. 8.0%ABV. 86 Beer Advocate/99 Ratebeer.
More will be arriving tomorrow, so be sure to arrive early to get some of these limited releases!
Next, the special pricing: Take 10% off mix & match 12oz IPA 6pks all day and night on Thursday. Enjoy your familiar favorites like CBC IPA and Bell's Two Hearted, or try something new, like the Humala IPA from Nomada or Brew Dog's Hard Core IPA. Either way, you'll save some $$ while you raise your glass to the iconic India Pale Ale!
Finally, the draft lineup: We'll feature three delicious IPAs from the local guys. We'll have the CBC Bodhi, Four String Big Star White IPA, and the Homestead Claim Jumper IPA out of Granville, OH. Fill your growlers or enjoy a pint here while you shop or in the cozy lil backroom bar!
Be sure to tag us in all of your #IPAday tweets (@CornerStoneCols) and watch our facebook page for more details on festivities. Also stop in on Friday from 6pm-8pm for a special IPA Tasting Event with Brad! Cheers!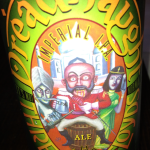 Ho, ho ho!!
We're celebrating Christmas in July today with a shipment of Thirsty Dog's small summer batch of 12 Dogs of Christmas Ale.  If you haven't tried this holiday staple yet, you should make it a point to pick some up while it lasts.  It is a winter ale brewed with honey, cinnamon, ginger, nutmeg and a little bit of Santa Claus love!
Rumor has it that the original brewer of the Great Lakes Christmas Ale joined the brewing team at Thirsty Dog and helped create this delicious seasonal offering.   I don't know if there is any truth to that, but it makes for a good story anyway.
8.3% ABV, 89 Beer Advocate/78 Rate Beer
Beer alert!  We received some new stuff today…
Founders Devil Dancer
The first one is dangerous….Founders dares you to dance with the devil with their most complex and feared brew.  Founders Devil Dancer is dry-hopped for 26 days with 10 different hops.  It packs a 12% ABV and 112 IBUs!  It received a 99 on Ratebeer and 89 on Beer Advocate.  This one won't last, so get it while you can.
Anderson Valley Wild Turkey Bourbon Barrel Stout
This stout is aged in Wild Turkey barrels for three months, adding in wood and vanilla aromas to an already complex nose of toffee, fresh baked bread & espresso.   6.9% ABV, 97 Ratebeer/85 Beer Advocate
Harpoon 100 Barrel Series Kettle Cup 2013 Hoppy Belgian Style Blonde
Harpoon holds an annual home brew contest for its employees called the Kettle Cup, and the winning brew each year becomes the newest installment of their 100 Barrel Series.  This year's winner is a Hoppy Belgian Style Blonde, a "delightfully drinkable Belgian-style ale with a big kick of American hops".  Fruity, spicy, hoppy, and available in a limited small batch quantity.  6.5% ABV, 86 Ratebeer/83 Beer Advocate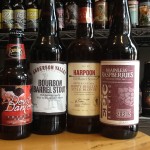 Today was a good Ohio beer day at Corner Stone….two special deliveries of some hard-to-find and awesome Ohio beers!
First, we got a case of the Rivertown Lambic.  Rated an 89 on Beer Advocate and 96 on RateBeer.com, this one was brewed in 2012 and aged in oak barrels for a year.  It pours a hazy amber gold color and has a nice citrusy tart flavor.  Not to be missed!   Well, unless you wait too long and we sell out of it before you get some.
Next, we received a case of the Thirsty Dog Bourbon Barrel Aged Wulver Wee Heavy Ale.  This big beer is not for the faint of heart!  It was aged in bourbon barrels for 11 months and packs a 12% ABV.  There were only 17 cases sold to Columbus, so you could be the envy of your beer geek friends if you get your hands on some!  Cheers!
Today's big news is that we will be receiving the special Game of Thrones release from Brewery Ommegang in time for the March 31st Season Premier of the cult HBO series!  Set to arrive on our shelves Thursday afternoon, the Ommegang Iron Throne Blonde Ale is the first beer in a series of four brews planned as a collaboration between the brewery and HBO.
For anyone unfamiliar with Brewery Ommegang, the brewery is located in Cooperstown, NY, and has a fantastic selection of Belgian-style beers in its arsenal already.  They planned the Iron Throne Blonde Ale along with HBO as a tribute to the Lannister family from Game of Thrones, all of whom are blonde – get it? – and who currently occupy the Iron Throne, making them the most wealthy and powerful family in the series.
If you plan to watch the Season Premiere Sunday night, be sure to pick up one of these limited edition releases, and might I suggest you drink it from a really elaborate chalice.  Cheers!