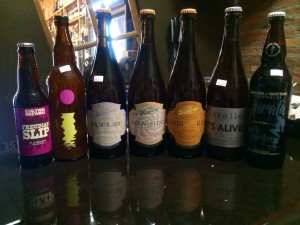 Freudian Slip Barley Wine Ale;  Evil Twin Brewing.  An intense, attention-seekingly hoppy Barley Wine Ale with a huge ego and a huge thirst for recognition.  10.3% ABV.  97 RateBeer/85 Beer Advocate.
Fatamorgana Imperial IPA;  Omnipollo (Brewed at Pub Dog Brewing).   This Imperial IPA is brewed with oats and wheat, with a cloudy crispness reminiscent of a saison.  It is dry-hopped twice and bottle fermented to preserve flavor and aroma.  For those wondering, like I did, what the heck the name means, a Fata Morgana is a complex mirage seen in a narrow band at the horizon.  The name is from an Italian phrase derived from Latin, and referred to the belief that such mirages seen on the horizon at sea were fake images of fairy castles, created by sea witches trying to lure sailors to their death.   8.0% ABV.  97 RateBeer/95 Beer Advocate.
Sour on the Rye Sour Rye Ale Aged in Oak Barrels;  The Bruery.   Deliciously sour with spicy rye notes and hints of oak.  If you are a beer collector, it can be aged for many years if stored properly.  7.6% ABV.  99 RateBeer/97 Beer Advocate.
Rueuze Sour Blonde Ale Aged in Oak Barrels;  The Bruery.   Unfiltered and bottle-conditioned, this is The Bruery's take on a gueuze-style ale.  It combines three vintages of their barrel-aged sour blonde ale for an intensely tart and funky beer.  This one can be aged for 5 years if stored properly.  5.6% ABV.  98 RateBeer/91 Beer Advocate.
Saison de Lente Belgian-Style Saison;  The Bruery.  Also unfiltered and bottle-conditioned, this one is golden in color and characterized by fresh hops and wild, rustic Brett yeasts.  It is perfect for warmer springtime weather and Easter celebrations, so maybe this year you should give up something other than beer for Lent!  6.5% ABV.  97 RateBeer/91 Beer Advocate.
It's Alive!  Belgian Wild Ale;  Mikkeller.  A hoppy Belgian Strong Ale that will continue to develop in the bottle with age.  8.0% ABV.  97 RateBeer/84 Beer Advocate.
Jurata Baltic Porter;  Coronado Brewing and Cigar City Brewing Collaboration.   Jurata was a mythological mermaid who was known to roam the depths of the Baltic Sea, much like the energetic yeasts used to brew this beer roamed around their fermentation tanks.  8.0% ABV.  Not yet rated.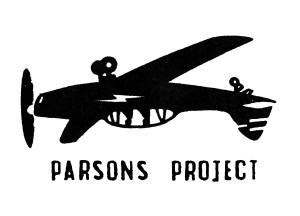 No plans this Saturday? Join us, UpperCup Coffee, Voda Hair Design, Chop Shop, Olde Towne East Neighborhood Association, & more for the 1st Annual Parsons Project Parking Lot Event! Live music, food, beer, coffee, and pize raffle. Stick around after the music to watch the big game on the outdoor big screens!

Music begins at 1pm! For your Rock & Roll enjoyment…
And more!
Proceeds from the Parsons Project Parking Lot Party will benefit the Columbus Collegiate Academy,a charter school in the United Schools Network located at 1469 E. Main St.
Event Sponsors:
Corner Stone Craft Beer & Wine
Upper Cup Coffee
Chop Shop
Voda Hair Designs
Old Familiar Barber Shop
Black Creek Bistro
Black Arts Plus
OTENA
Angry Baker
Yellow Brick Pizza
The Tavern Olde Towne
For more info or to RSVP, check out our Facebook page!