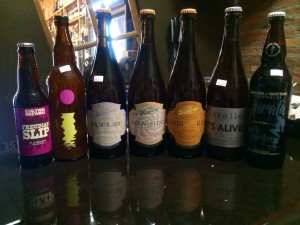 Freudian Slip Barley Wine Ale;  Evil Twin Brewing.  An intense, attention-seekingly hoppy Barley Wine Ale with a huge ego and a huge thirst for recognition.  10.3% ABV.  97 RateBeer/85 Beer Advocate.
Fatamorgana Imperial IPA;  Omnipollo (Brewed at Pub Dog Brewing).   This Imperial IPA is brewed with oats and wheat, with a cloudy crispness reminiscent of a saison.  It is dry-hopped twice and bottle fermented to preserve flavor and aroma.  For those wondering, like I did, what the heck the name means, a Fata Morgana is a complex mirage seen in a narrow band at the horizon.  The name is from an Italian phrase derived from Latin, and referred to the belief that such mirages seen on the horizon at sea were fake images of fairy castles, created by sea witches trying to lure sailors to their death.   8.0% ABV.  97 RateBeer/95 Beer Advocate.
Sour on the Rye Sour Rye Ale Aged in Oak Barrels;  The Bruery.   Deliciously sour with spicy rye notes and hints of oak.  If you are a beer collector, it can be aged for many years if stored properly.  7.6% ABV.  99 RateBeer/97 Beer Advocate.
Rueuze Sour Blonde Ale Aged in Oak Barrels;  The Bruery.   Unfiltered and bottle-conditioned, this is The Bruery's take on a gueuze-style ale.  It combines three vintages of their barrel-aged sour blonde ale for an intensely tart and funky beer.  This one can be aged for 5 years if stored properly.  5.6% ABV.  98 RateBeer/91 Beer Advocate.
Saison de Lente Belgian-Style Saison;  The Bruery.  Also unfiltered and bottle-conditioned, this one is golden in color and characterized by fresh hops and wild, rustic Brett yeasts.  It is perfect for warmer springtime weather and Easter celebrations, so maybe this year you should give up something other than beer for Lent!  6.5% ABV.  97 RateBeer/91 Beer Advocate.
It's Alive!  Belgian Wild Ale;  Mikkeller.  A hoppy Belgian Strong Ale that will continue to develop in the bottle with age.  8.0% ABV.  97 RateBeer/84 Beer Advocate.
Jurata Baltic Porter;  Coronado Brewing and Cigar City Brewing Collaboration.   Jurata was a mythological mermaid who was known to roam the depths of the Baltic Sea, much like the energetic yeasts used to brew this beer roamed around their fermentation tanks.  8.0% ABV.  Not yet rated.
It's Delivery Day! Special deliveries arrived today from some of our favorite breweries!
Three Floyds Gumballhead – Wheat Ale brewed with Amarillo hops and bottle conditioned. Has nice balanced hoppy flavor with a citrusy finish, makes a perfect beer to help close out the summer! 5.5% ABV. 98 on Ratebeer, 94 on Beer Advocate
Three Floyds Alpha King – Three Floyds' flagship beer, an American Pale Ale brewed with Centennial, Cascade & Warrior Hops. 6.5%ABV. 100 Rate Beer/ 95 Beer Advocate
Founders All Day IPA – NOW IN CANS! We've been waiting all summer for this session IPA to show up in cans, and it's finally here! This one is my new favorite summer beer! If you haven't tried it, you must. 4.7% ABV. 96 Ratebeer/87 Beer Advocate
Stone Enjoy By IPA – A delicious, big, floral Imperial IPA. Get it while it lasts & be sure to Enjoy By 9/13/2013! When you pick it up, be sure to tweet & use the hashtags: #EnjoyBy #OH #CornerStoneCols so everyone knows you got some! 9.4%ABV. 100 Rate Beer/98 Beer Advocate
More from Stone and other breweries, you've just got to come down to the shop to check it out!
Cheers!